Our intrepid group of travelers took advantage of our final morning in Oz to tour the Melbourne Zoo. Shout-out to staffer Emily McLeod for organizing it and to Jenny for serving as our tour guide!
This was valuable not only for us to see some of the native (and nonnative) wildlife, but also to discover what the zoo is doing to try to conserve them. Australian zoos and the Melbourne zoo in particular have been very innovative in developing programs to protect animals in the wild, from their "Seal the Loop" campaign to get people to discard old fishing line safely rather than allow it, for example, to get wrapped around the feet and beaks of penguins, to an attempt to encourage blowing bubbles rather than purchasing helium-filled balloons, which are often eaten by seals and seabirds with bad results, to displays that instruct people of the importance of keeping their cats indoors. (We learned in Uluru of the devastation that feral cats can create among native species of lizards and birds.)
Their most recent program was called "Who gives a crap", and promoted the use of recycled toilet paper in order to protect habitat. We didn't have time to fully explore this exhibit, but there were intriguing models of toilet paper rolls and toilets that I'm sure were a big hit with the child visitors and probably many of the adults. We definitely learned a lot about the innovative ways that the Melbourne Zoo is using to try to protect local (and international) wildlife.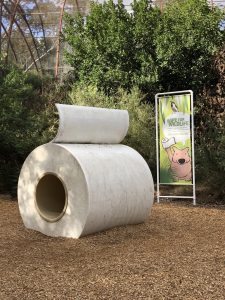 The theme of isolation and connection was reflected in the diversity of indigenous species we saw (emus, kangaroos, wombats, and pelicans, as well as many beautiful birds and even stick insects), evolving in their previously isolated corner of the globe, and in the way they are threatened by the increasing interconnectedness that human activity has created. Hopefully connections (among researchers, across countries, and between humans and animals) can help to protect them as well.